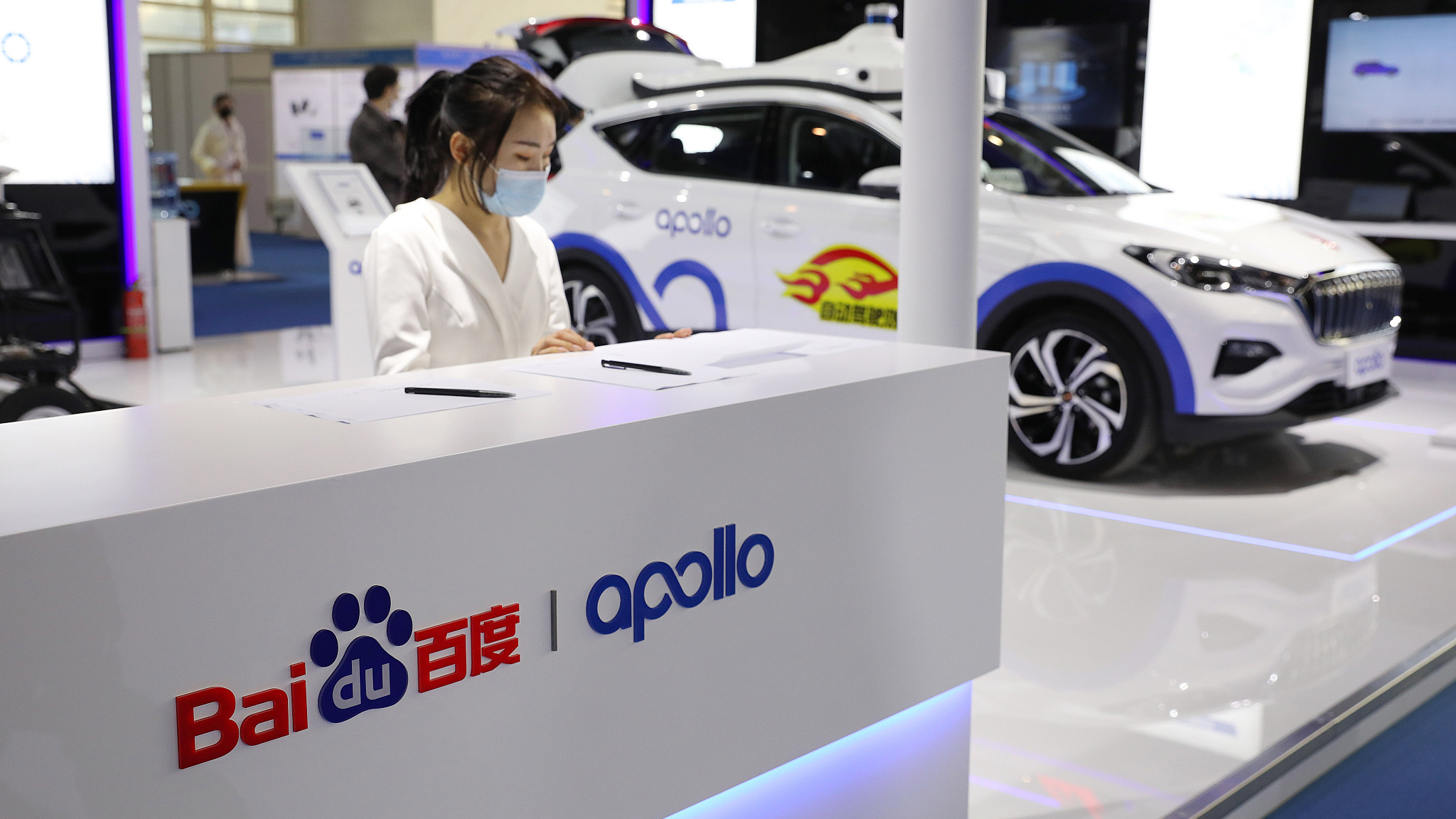 A photo of Baidu's Intelligent Driving Group logo at the 2020 World Intelligent Connected Vehicles Conference in Beijing, November 11, 2020. /VCG

China's search engine giant Baidu Inc. has achieved its expected revenue, driven by artificial intelligence (AI) development, according to its financial report released on Wednesday.
Its unaudited total revenue in the fourth quarter was up 5 percent to 30.3 billion yuan ($4.64 billion), meeting its internal projections.
Baidu's figures also beat analysts' average estimate of 30.1 billion yuan reported by Refinitiv.
The results came shortly after its decision to team up with auto manufacturer Geely to produce intelligent electric vehicles.
Thanks to its efforts in AI, its non-marketing revenue from its core search businesses reached 4.2 billion yuan in the three months ended December, a more than 50 percent jump compared to the same period in 2019.
According to Baidu's co-founder and CEO, Robin Li, the company plans to keep forging ahead in "cloud services, autonomous driving, smart transportation and other AI opportunities" in 2021.
The Beijing-based company has been focused on AI development since 2010. Its AI cloud differentiating with AI solutions grew 67 percent year on year in the fourth quarter, according to its earnings report.
But the tech giant's non-GAAP net income dropped 25 percent year on year to 6.9 billion yuan in the last three months of last year.
Its total revenue in the 2020 fiscal year came at 107.1 billion yuan, which was basically flat from the prior year.
Baidu said it expects its current-quarter revenues to be between 26 billion to 28.5 billion yuan, representing a growth rate of 15 percent to 26 percent year on year.
Its U.S.-listed shares increased 3.5 percent to $320 in after-market trading as of midnight Eastern standard time.
From:CGTN